Compact Computer is a 500MHz Blackfin processor with programable system IO provided by a FPGA packaged in a CompactFlash container.

The Blackfin peripherals are taken to the top connector. The FPGA is connected to the bottom connector.

The FPGA provides a CompactFlash interface to enable the the Compact Computer to be plugged into any CF slot.

The FPGA can be reprogrammed to provide different bus types and can be deployed in a multi-processor system.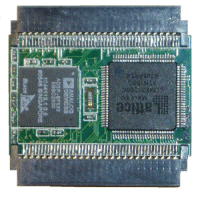 16/32 bit CPU, ADSP-BF533,
32/64 MB SRAM
8/16 MB FLASH
FPGA